ARCHIVED NEWS
Blockstack Wins Patent for Its Dapp Single Sign-on Product
2020-04-01 22:21:00
The U.S. patent office has granted Blockstack intellectual property rights around its single sign-on service for dapps.
Blockstack Wins Patent for Its Dapp Single Sign-On Product
2020-04-01 22:21:00
The U.S. patent office has granted Blockstack intellectual property rights around its single sign-on service for dapps.
Bitcoin Takes Tumble, Traders Fret Correlation and Next Month's Halving
2020-04-01 22:16:31
Bitcoin had another down day. How long the cryptocurrency follows stocks, and whether next month's halving juices its price, remain open questions.
Film Reels and Steel: Github Plans to Archive Bitcoin Code for 1,000 Years
2020-04-01 21:57:45
The Microsoft subsidiary, Github recently revealed the "Archive Program," an initiative that aims to preserve open source technologies for 1,000 years. The newly launched effort plans to store snapshots of open source technology 250 meters underground on the Norwegian island of Svalbard. The source code management and collaboration platform also plans to store the Bitcoin […]
XRP Falls Behind Bitcoin SV, Dogecoin in Active Addresses
2020-04-01 21:34:15
Evidence suggesting a change in investor behavior continues to grow as XRP and a handful of other projects see serious declines in crypto wallet addresses over the past 4 weeks.  XRP Investors Hodling or Losing Interest? Analyst CryptoRand has posted a chart showing the number of dynamic addresses has decreased among many major platforms over the past month. According to Crypto Differ figures, XRP is by far the worst affected. Interesting decrease on $XRP dynamic […]
Bank of France to Test CBDC Contributing to Wider Effort
2020-04-01 21:21:12
The Bank of France announced a CBDC experiment and is open to applications. The test is a part of the larger move towards introducing central bank digital money in the EU and is aimed to explore solutions for interbank settlement. In this piece, we take a look at the details of the French CBDC initiative and put it alongside similar ongoing experiments, plans, and efforts in other countries.
Bank of France Seeks CBDC Solution for Interbank Settlement
On March 30th, the French Central Bank
called
for applications "to experiment with the use of a digital euro issued for interbank settlements." The initiative delivers on the central bank's earlier
promise
to test CBDC in Q1 2020. According to the
Call for applications package
released on March 27, the goal of the experiment is to explore the financial, monetary, and legal consequences of introducing a CBDC and test three particular use cases:
payment against delivery of listed or unlisted financial instruments;
payment against the digital currency of another central bank;
payment against digital assets.
The solutions submitted by those willing to participate should address at least one of these use cases and introduce a digital token or "or any other dematerialization process" as the means of payment. There are no restrictions on the underlying technology used in proposed solutions, meaning that the central bank welcomes both blockchain and non-blockchain systems. The deadline for submitting applications is May 15th, 2020. The Bank of France will pick up to 10 submissions to proceed with. The selection procedure is scheduled for July 10th, after a period allocated for review and interviews with the development teams. The criteria for the proposals include the amount of innovation, resource costs, security, and confidentiality. Moreover, the system is expected to allow for transaction data management and tokenization of central bank money or otherwise dematerialization thereof, as well as establish a business process for the token to be used for payment and financial instrument settlement. It should also have the tools of control and supervision for the authorities. Importantly, the token or an analog solution to be introduced will not have any legal power. It will be used to represent a certain amount of central bank money in euro, but all such tokens will be destroyed at the end of each respective accounting day.
"The Banque de France will not engage in money creation in the context of these experiments. The token reflecting the amount in euros in digital form will be destroyed at the end of the accounting day on which payment was made. Payment in central bank money will be made in accounts opened with the Banque de France and the corresponding amounts will be covered, as need be, by collateral in one or more segregated accounts opened by the Banque de France in its own name," the central bank wrote.
The organizers of the experiment also stated that the experiment is not going to be perpetuated. The actual solutions taking part in the tests will not necessarily be used in the future:
"These experiments will act as a contribution by the Banque de France to a broader discussion within the Eurosystem, which will make any decision on whether to set up a CBDC. The tests are not intended to be continued on a long-term basis or applied on a wide scale by the Banque de France itself."
Another side note is that the development teams willing to participate will have to pay their own bills. Still, while there is no reason to be too excited about the Bank of France's move to innovation, it is an important step in the shift to central bank digital money taking place in the EU and the rest of the world.
Retail CBDC Explored in Parallel
While the key principles laid out by the Bank of France for their current CBDC experiment revolve around the digital money to use in wholesale transactions between banks and other financial institutions, the ongoing CBDC testing in Sweden looks for a retail solution. Announced on February 20th, 2020, e-krona, also referred to as digital krona, is a joint
pilot project
by the Riksbank, Sweden's central bank, and Accenture, seeking to explore the use of a central bank digital money by the general public. The project will run until February 2021 and may be extended.
"A digital krona should be simple, user-friendly as well as fulfill critical requirements for security and performance. In the test environment, simulated users shall be able to hold e-kronor in a digital wallet, make payments, deposits, and withdrawals via a mobile app," reads the press release.
The
solution
is expected to be based on a distributed ledger, namely R3's Corda open-source blockchain platform. The network for e-krona is designed as a permissioned blockchain accessed only by the Riksbank-approved participants: banks and other financial institutions. These participants run network nodes, so the process involves processing and validating transactions and storing e-krona tokens, representing the central bank digital money. The Riksbank will act as the only issuer of e-krona. End users are meant to hold their e-krona in digital wallets accessible via mobile apps, wearables, and cards. The project also explores the possibility of offline transactions with e-krona.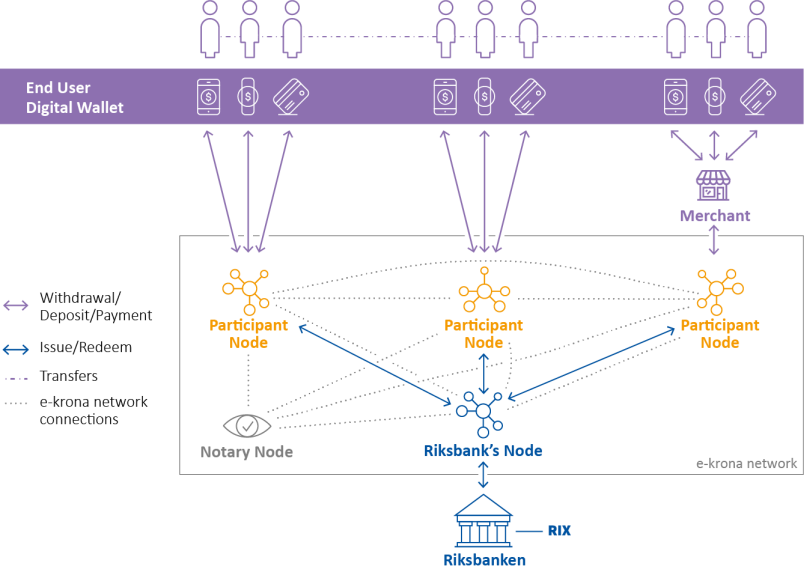 The conceptual architecture for the e-krona pilot. Source: Accenture via Riksbank
Importantly, the test in question is an isolated simulated study and considers just the technical solution. There are no decisions on the actual issuance of e-krona, its design, and underlying technologies.
"The technical solution will be evaluated in a test environment, in which participants and interactions with the existing infrastructure and settlement systems will be simulated," stressed the Riksbank.
While at the similarly early stages of development, the Swedish and French CBDC testing projects aim at two distinct forms of central bank digital money, both of which are important in the future real-life implementation of CBDC.
CBDC Initiatives Worldwide
France and Sweden are certainly
not alone
in their efforts towards CBDC development. The Bank of England has recently
published
a discussion paper evaluating the pros and cons of a central bank digital currency pegged to the British pound. In the paper, the central bank outlined the concept of "digital banknotes" to be used by the general public similar to the existing cash. The Bank of England also stressed that CBDC and cryptocurrencies are not the same:
"CBDC would be something fundamentally different from 'cryptocurrencies', such as Bitcoin. Many crypto-assets are privately issued and not backed by any central party. They are not considered a currency or money because they do not perform the essential functions of money: they are too volatile to be a reliable store of value, they are not widely accepted as a means of exchange, and they are not used as a unit of account." 
Similarly, they argued that a CBDC doesn't have to be built on blockchain, although there are potential benefits in using distributed ledger technologies:
"Although CBDC is often associated with Distributed Ledger Technology, we do not presume any CBDC must be built using DLT, and there is no inherent reason it could not be built using more conventional centralized technology. However, DLT does include some potentially useful innovations, which may be helpful when considering the design of CBDC. For example, elements of decentralization might enhance resilience and availability, and the use of smart contract technology may enable the development of programmable money."
Reportedly, China is also
making progress
with its CBDC development. According to the Global Times' insider sources, the People's Bank of China together with a group of private companies have "completed development of the sovereign digital currency's basic function" and moved on to drafting the necessary laws. For China, the introduction of CBDC may present a tool to "translate a central bank's zero and negative interest rate policy into commercial banks," which would be helpful during the recession.
"If there is a chance China is considering lowering its interest rate into negative territory as a final option and directing such policy to commercial loans and lending, a circulated digital currency rather than M0 will be able to achieve that," Cao Yan, managing director of Digital Renaissance Foundation, told the Global Times.
The Central Bank of the Bahamas
rolled out
its pilot CBDC project back in December 2019. They introduced a digital version of the Bahamian dollar for a part of the country as a potential way of dealing with cash-related inefficiencies and discriminatory practices.
"It would permit wireless restoration of payments connectivity, avoiding the cash shipment and cash handling frustrations. It would permit electronic dispersing of aid and allow families to recapture personal dignity by restoring the flexibility to prioritize the elements of a personal need that they prefer to satisfy post-disasters," said the governor of the Bahamian central bank John Rolle.
Many other countries across the world are at least
considering
the idea of central bank digital money and the global crisis caused by the coronavirus pandemic and the resulting lockdown is likely to act as a catalyst for the actual change, at least to an extent. Although the current efforts may seem limited, these pilot projects will lay the foundation of future infrastructures.
Follow us on
Twitter
and
Facebook
and join our
Telegram channel
to know what's up with crypto and why it's important.
How Coronavirus Is Accelerating the End of Globalism, Feat. Peter Zeihan
2020-04-01 21:00:00
The American-led global order has been unraveling for 30 years, and COVID-19 may be the blow that changes it once and for all.
OKEx to Host 11th IEO Amid Crypto Bear Market
2020-04-01 20:46:00
OKEx has announced its 11th exchange-based token sale coming soon on the Jumpstart platform. With the crypto market still in a state of decline, will investors be tempted to try and make quick returns?  OKEx Helps Entertainment Platform Launch Token Malta-based OKEx, which operates a spot and derivative trading platform, will launch the sale of DEAPCOIN (DEP) on April 8. The token will fuel the DEPA platform, which is an entertainment ecosystem where users will […]
Online Black Markets' Bitcoin Revenues Take a Hit Amid Pandemic
2020-04-01 20:17:00
Customers spent fewer bitcoins at darknet markets over the last two months despite the slide in the cryptocurrency's price, according to data from blockchain surveillance firm Chainalysis.
Bitfury Latest to Donate Crypto Mining Power to Coronavirus Research
2020-04-01 19:29:00
Bitfury has dedicated its GPU miners to the Folding@home project, which is studying the novel coronavirus in hopes of developing a vaccine.
Judge Denies Telegram's Request to Issue Gram Tokens to Non-US Investors
2020-04-01 19:17:28
A federal judge denied Telegram's request to issue Gram tokens to non-U.S. investors.
The Many Facts Pointing to Wei Dai Being Satoshi
2020-04-01 18:37:35
Satoshi Nakamoto has been an enigma for well over a decade and there's been a number of suspects and self-styled Bitcoin inventors. One particular suspect is the computer engineer Wei Dai, the creator of the b-money system and the Crypto++ cryptographic library. Since the Bitcoin network was launched in 2009, a number of people have […]
As Crypto Prices Reeled in Q1, These Coins Stood Out
2020-04-01 18:06:35
While bitcoin and the broader crypto market fell during Q1 amid a global crisis, a few coins outperformed. Here are a few notable winners and losers.
Coinbase Pumps $1.1M USDC Into DeFi Sites Uniswap and PoolTogether
2020-04-01 18:05:00
Coinbase has put $1.1 million in USDC into the pools powering two of the more popular DeFi applications on Ethereum: Uniswap and PoolTogether.
Bitcoin News Roundup for April 1, 2020
2020-04-01 18:00:00
A new mesh network runs on crypto and the Bitcoin markets might not hit $20K. It's CoinDesk's Markets Daily Podcast.
Why The Bitcoin Halving Will Change Everything
2020-04-01 17:45:00
In six weeks the number of Bitcoins produced with each block will be reduced to 6.25. This reward halving has long been predicted to put upward pressure on the price. One analyst is demonstrating the significance of this move by comparing it to other limited commodities. BITCOIN COMPARED TO PRECIOUS METALS Analyst PlanB has tweeted a unique chart that looks at Bitcoin's stock-to-flow ratio. This ratio is a metric that compares the available quantity with […]
AT&T Files for Dismissal in $24M Phone Hack Case, Claims Crypto Exec Didn't Read T&Cs
2020-04-01 17:40:00
Terpin claims he lost $24 million in crypto due to AT&T's negligence. The firm says he didn't read the company's policy documents.
AT&T Files for Dismissal in $24M Phone Hack Case, Claims Crypto Exec Didn't Read Terms
2020-04-01 17:40:00
Terpin claims he lost $24 million in crypto due to AT&T's negligence. The firm says he didn't read the company's policy documents.
Binance Crypto Exchange Is Launching Its First Bitcoin Mining Pool
2020-04-01 17:30:16
Binance has been offering "generous" referral bonuses for its new crypto mining pool.
Thousands of Microsoft Servers Infected By Crypto-Mining Botnet Since 2018, Says Report
2020-04-01 16:27:05
The attackers have apparently been targeting Microsoft SQL database servers to mine cryptocurrency for two years.
Thousands of Microsoft Servers Infected by Crypto-Mining Botnet Since 2018, Says Report
2020-04-01 16:27:05
The attackers have apparently been targeting Microsoft SQL database servers to mine cryptocurrency for two years.
How Financial Models Could Move Bitcoin's Price After the Halving
2020-04-01 16:00:00
If history is a guide, financial models forecasting the post-halving bitcoin price are just as likely to shape the future as predict it.
Bitcoin Creator Also Founded Monero, New Research Suggests
2020-04-01 15:25:15
While no one knows who's behind the Satoshi Nakamoto name, a research document suggests that the Bitcoin creator might have also developed another cryptocurrency – Monero. Nakamoto Had Motives to Improve Bitcoin's Algorithm New research by Monero Outreach concludes that Bitcoin and Monero might be the creation of the same person or entity. Monero is a cryptocurrency that came out in 2014 to address Bitcoin's privacy issues. While the former uses a public ledger, no […]
Bitcoin Revolution: Wanna Earn $1,000 a Day? Government Warns About This Scam
2020-04-01 15:08:30
A cryptocurrency investment scheme called Bitcoin Revolution has recently garnered interest worldwide with its claim that investors could easily earn over $1,000 a day. They could even become millionaires within 61 days using the Bitcoin Revolution app. However, this is a scam and it recently ran into trouble with the Securities and Exchange Commission of […]
Cannabis Shops Are Using Zap's Lightning App During Coronavirus Cash Crunch
2020-04-01 15:00:00
The Lightning Network startup now offers fiat-friendly bitcoin payment tools. Cannabis dispensaries in Colorado are an early proving ground.
Bitcoin Forks: You Wont Believe How Many There Actually Are
2020-04-01 14:40:54
We all know what Bitcoin forks are, right? Like BCH, BTG, maybe a couple of others… Actually, there's a staggering amount of forked projects. Find out just how many below. What Are Bitcoin Forks Again? Just for a very quick recap, Bitcoin forks are divided into two categories: soft and hard. A soft fork occurs when there is a change to the software protocol. This type of fork makes previously valid blocks invalid. However, soft […]
Zero Interest Rates Could Hamper the Stablecoin Business
2020-04-01 14:34:53
Zero or negative interest rates will force stablecoins to look at their fee structures and cut costs. Only the fittest will survive, says our columnist.
HIVE Blockchain to Double Bitcoin Mining Capacity Through $2.8M Share Deal
2020-04-01 14:25:20
HIVE shares have increased 10 percent since the deal to acquire a bitcoin mining farm in Canada became public.
Bitcoin Outperforms Stocks in Q1 Despite Worst Month Since Jan 2018
2020-04-01 13:45:15
Bitcoin just experienced its worst month since departing from its all-time highs 2 years ago, but still the leading crypto managed to outperform the US stock market in the first quarter of 2020. Global Pandemic Tears Markets Apart The financial markets were hit by the COVID pandemic that forced entire countries and industries to shut down. Most of losses came in March, which was one of the worst months including for Bitcoin. However, year-to-date, the […]
'Satoshi Never Used Bitcointalk': Craig Wright
2020-04-01 12:53:45
Oh what a tangled web we weave when first we practice to deceive… You got it. Craig Wright is at it again. Only this time around it's going to be hard to talk his way out of this one. According to his official blog post yesterday, it's a myth that Satoshi (Craig) ever posted on Bitcointalk. Only… he then goes on to say that he did. Craig Wright Says That He (Satoshi) Never Used Bitcointalk […]
BitMEX Operator Ups Grant for Bitcoin Development to $100K
2020-04-01 12:51:30
HDR Global Trading has supported bitcoin maintainer Michael Ford since he was appointed last summer.
Amended Lawsuit Against Ripple Now Offers Theory That XRP May Not Be a Security
2020-04-01 11:19:30
While the lawsuit against Ripple Labs still alleges the firm broke securities laws, the plaintiffs now seem to be hedging their bets.
Indian State Ministry Discusses Cryptocurrency Plans With Founders of Crypto Bulls Roadshow
2020-04-01 10:13:45
An Indian state official recently met with the founders of the "India Crypto Bulls" initiative and discussed cryptocurrency development, investment, and innovation in India. News.Bitcoin.com talked to Kumar Gaurav, one of the founders, to find out more about the meeting. Also read: 2x Bitcoin — Wanna Double Your BTC to the Moon? Forget About It […]
GitHub Is Burying Bitcoin Code Inside an Arctic Mountain to Ride Out the Next 1,000 Years
2020-04-01 10:00:00
Deep inside a forsaken coal mine on the Norwegian archipelago of Svalbard, the Bitcoin Core code repository will be kept on film reels and stored for centuries.
Tether CTO Claims USDT Stablecoin Can Boost DeFi Liquidity
2020-04-01 09:00:00
Tether CTO Paolo Ardoino believes the USDT stablecoin can boost the decentralized finance ecosystem.
Financial Bazookas Revealed – Market Strategists Believe the Fed Will Purchase Stocks Soon
2020-04-01 02:32:05
Bitcoin and cryptocurrencies may be the only free-market assets left not manipulated by central banks like the U.S. Federal Reserve. Since the covid-19 outbreak, the Fed has unleashed a massive arsenal of monetary weapons to combat the effects on the economy. After the significant rate cuts, quantitative easing (QE), and buying mortgage-backed securities, analysts believe […]
SEC vs Telegram: A Battle That Could Be Avoided
2020-04-01 01:52:10
In 2018, Telegram raised $1.7 billion through an ICO in exchange for the future delivery of 2.9 billion Gram tokens to 175 investors. While Grams could realistically be sold with a premium on the secondary market, Telegram argued that the agreement was in line with the definition of a private placement of securities that is subject to an exception to Regulation D 506(c). On October 11, the SEC secured a temporary ban on the distribution of Gram among investors through a federal court. The agency argued that the asset is a security, and that Telegram violated U.S. law during the ICO. Telegram challenged this claim but agreed to postpone the launch of the network until the case is settled with the SEC. To better understand the implication of the ruling and the possible scenarios for resolution, we talked to Gordon Einstein, the legal expert in all things crypto and the founding partner at CryptoLaw Partners.
The Injunction
According to a
preliminary ruling
, a court in the Southern District of New York agreed with SEC's argument that Telegram sold unregistered securities and ordered the company to refrain from the planned distribution of Gram tokens. The judge concluded that the regulator was sufficiently convincing in its assessment that the Gram sale met the signs of an offer of securities according to the Howey test. Under pressure from SEC, Telegram agreed to postpone the launch from the end of October to April 30, 2020 and offered dissenting investors to return 77% of the invested funds. The current court decision may actually make the temporary ban on the distribution of Gram tokens permanent. Gordon Einstein believes that while this may not be the end of Gram, it is still in a very tight spot:
"The U.S. Federal district court granted the SEC's application for a preliminary injunction. It did not grant a permanent injunction. They just said 'You have to stop what you're doing now. For now. Until you either get this appealed or you get a trial.' So that does not automatically mean that the distribution of Grams is over, but it is pretty serious."
The court concluded that Telegram realized that primary buyers were not paying $1.7 billion for the purchase of Gram, only as a means of storage and transfer of value. Instead, according to the court, Telegram manufactured a scheme that allowed it to maximize both the funds raised from primary investors and the profits that they could make when reselling tokens.
Was Telegram Looking for a Loophole?
The lawyers of the company insisted that the initial agreements with the buyers did correspond to the definition of investment contracts, however, the secondary sale of tokens did not, and these events were not related.
"The court did not get to whether the newly created Gram would be a security. I think they bypassed this issue. Telegram is claiming strongly that upon the launch of the network Grams are not securities because they have consumptive use and value. That may be true. I didn't see the court getting there. "What the court did say was that the Gram purchase agreements and therefore Grams when initially sold back in 2018 were securities at that time. And that the people who participated in the two rounds of initial purchases were buying those agreements (and by implication the Grams) with an eye towards distributing them towards the public. So SEC is claiming (and the court seems to agree with them) that all those investors were actually underwriters. And if they are underwriters, and TON issuer didn't make sure that they weren't underwriters, then the Regulation D exemptions that Telegram in time was relying on, rule 506(c), didn't apply."
According to Gordon Einstein, there may be inconsistencies in this ruling.
"The court really implied that those venture capital firms, those initial bulk buyers, were buying the right to purchase Grams with an eye towards distributing them towards the public. All these people signed agreements saying this wasn't the case.  "It's a little bit strange. For example, someone invests early in a housing project with the idea of having a bunch of houses when it's complete. If they then sell those houses to the public are they an underwriter? I mean, the initial purchase agreement may be security but it's truly hard to argue that the house that comes out of it is a security. I think the court went a little too far there."
He also reminded that this decision went against the forming consensus on the possibility of a token's evolution over time.
"They're going against what commissioner Hinman said at Yahoo a year ago, that Ethereum, even if it was initially a security, probably evolved into no longer being a security because it is sufficiently decentralized and distributed. So are they really claiming that these Grams are going to forever be trapped in what they would have been in 2018 and not what they are in 2020?  "It's inconsistent and deadening towards innovation because failing to recognize that these things evolve over time. Gram sold before the network was functional may have been a security but after the network gets functional it's not because it does have consumptive value."
Is Telegram Fighting Back?
Defendants
appealed
to the U.S. Court of Appeals but also
asked
the court to clarify the ruling's scope. Representatives of the messenger believe that the decision on the ban relates exclusively to agreements with investors in Gram from the United States. And that would cover less than 30% of the funds received during the token sale. Since most of the contracts were concluded with non-US investors outside the United States, the Gram issuer again questioned the authority of the SEC in this case.
"Defendants respectfully seek clarity with respect to the scope of the injunction, see Fed. R. Civ. P. 65(d); in particular, that the Order does not apply to Defendants' Purchase Agreements entered into abroad with non-U.S. Private Placement investors not subject to U.S. securities laws,"
they said in a statement.
SEC appealed to the court with a request not to limit the ban on the planned distribution of Gram tokens to U.S. investors only. It emphasized that the company's request to "clarify" could be a disguised attempt to reduce the scope of the ban. The regulator also noted that Telegram is seeking to limit the application of a court order by not taking measures to prevent Gram tokens from outside the United States from entering the country's secondary market.
"The SEC respectfully requests that the Court deny Telegram's attempt to limit the scope of the injunction," the statement said.
What Happens Next?
There are several possible scenarios going forward. According to the contract of sale of Gram tokens, primary investors will have the right to receive their money back if the TON network is not launched before April 30. Some TON investors have already announced their readiness to leave the project. But surprisingly some experts believe this may not even be a bad thing.
"That's like a form of judo on the SEC's and the court's arguments. They didn't get to the point of saying that Gram issued today will be a security. Once the network's active maybe Gram becomes a commodity. So if Telegram refunds all the early investors' money and sells all these functional Grams to the world, what's to stop them?"
says Gordon Einstein.
Another thing to consider is that TON may be launched not even by Telegram but by any unaffiliated group as the code is open-source and available on Github.
Was There a Better Way to Do It?
In retrospect, Telegram did not handle the legal part of the token sale very well. Could it be done in a safer and more productive way? Gordon Einstein believes that it could have.
"When you're getting people to fund the creation of your network, you do not want to sell tokens to them. You want to sell them equity in your company, the one that is going to sell the tokens. You then use these funds to build the network and once it's built, then this entity sells the tokens. Maybe at that time, it distributes tokens to the shareholders as dividends or as a bonus. At the very least they're getting the benefit of that initial sale but maybe they're getting more of a long term position also. "Another thing where Durov brothers made a mistake was they spoke early about creating a non-profit foundation to manage the project going forward. But they didn't actually do it. And secondly, they talked about this foundation buying and selling Grams to support its price. That's a problem because it creates an expectation of profits or at least expectation of limited losses on the part of initial investors. If Gram was completely free-floating and not supported, it would take away the argument that investors' downsides were protected. "Also, the court made a big deal that everyone buying tokens because Telegram was so great and the Durov brothers were so great. By the way, the court seems to like the Durov brothers and appreciates what they've done with Telegram and how smart they are. And the court pointed out that neither one of them made any money off the Telegram app. They spent their Vkontakte money and supported Telegram, maybe up to $200 mln so far. If they created a truly independent foundation and put the money into the foundation and the foundation's mission was to increase the functionality of the platform and they stepped back from it, they'd have a stronger argument."
Follow us on
Twitter
and
Facebook
and join our
Telegram channel
to know what's up with crypto and why it's important.
NEW !
Trade 300+ coins without creating an account
CLICK HERE